The Last What's Up Wednesday ~ July 1. Goodbye, WUW! *waves a bit too cheerfully*
What is She Doing?! #5. You guys have really weird captions. Seriously — underwear battles and the Underwear Phantoms?
Life at Camp ~ Fourth of July Parade. DO YOU KNOW HOW HARD IT WAS TO MAKE THIS POST. IT WAS HOT, I HAD TO MAKE A FLAG OUT OF STREAMERS, AND JUST UGH.
The Camping Expedition. Can I just say that this is a really weird photostory? 'Cause it is. There's talking dogs and a tent that thinks for itself. But idk, it's OK.
Life at Camp ~ Aphrodite. HER HAIR IS SO PRETTY. ALSO, HER FLOWER CROWN. MMM.
Sunset Wanderer. Pretty sure that MJ is the most photogenic doll ever made.
The TSO — Part Two: Suspicious. Wanna see some terrible spies almost get caught? Then this photostory is for you!
18 Inch Maryellen Doll! I spew a bunch of adjectives that are synonyms with "beautiful." When I get too excited, I turn into a thesaurus — shh.
Stranger in the House. Bri hates everyone, which is a bit of a problem . . . as when she comes home from a day of shopping, a strange girl is in her dorm.
New Personal Blog. Man, am I glad that I started another blog! I recently reached one year and 180 followers on Blue Eyes, Gray Eyes.
Shout Our Your Doll Site — With a 121 Followers Q&A. I have nothing clever or funny to say about this. It a shout out. With a Q&A announcement. Simple.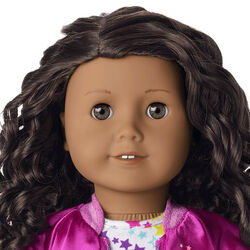 Truly Me Doll Wishlist. I now have one doll from this list. I'M SO ACCOMPLISHED.
Sisterhood of the World Bloggers Award.
Lavender Girl. Aw, Savannah, you're so PURTY.
Thank you and goodbye.
-Loren